ARPwave Therapy is preformed by ARPwave Therapist Cynthia Bratcher
To schedule an ARPwave appointment, contact Cynthia at 623-363-1881
 Achieve maximum results with minimal training.
Train without cardiovascular or mental fatigue.
There is no risk of injury often associated with intense muscular contractions of this kind.
TheraStim  
(Also known as the orginal Accelerated Recovery Performance Trainer, AKA ARP Wave Trainer. We are not associated with Evosport.)
TheraStim ARP Traine is a neuromuscular stimulator which introduces electrical signals to the body through conductive electrode pads to provide therapeutic treatment for a variety of conditions. Typically, tre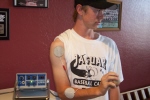 atments require only a few minutes each. The number of treatments required depends on the patient's symptoms and the treatment plan selected by the doctor. During a TheraStim treatment, patients may be asked to move the area of complaint in order to isolate a specific muscle or group of muscles.
What makes Therastim different?
WAVEFORM – Compound, double exponential, asymmetric high level of direct current deepest soft tissue penetration resonates with the human system body's natural resistance "drops out"
APPLICATION – The patient is in motion during the treatment Using same movement that causes pain or displays faulty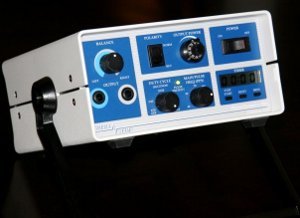 movement pattern opens up current to the charge of injury dissipates charge of injury more effectively
OUTCOME – Results are immediate and dramatic significantly shortens healing process reduction of scar tissue enhanced tissue condition
Increased Range of Motion
TheraStim is often selected by healthcare professionals to help relieve pain from muscle spasms or injuries. Such injuries may include strains, sprains, spasms, tears and bruises. As a result of TheraStim treatments, patients frequently experience an increase in their range of motion in the areas that were treated. This is seen almost immediately following treatment. In addition, treatments often help reduce pain in the area of injury, or pain associated with trigger points.
Who uses TheraStim?
At our office, anyone that has experienced aches and pains, tight muscles or limited mobility has benefited from the use of TheraStim. From stay at home mothers to office personnel, professional athletes to triathletes, as well as Olympians, TheraStim has treated injuries successfully and has significantly decreased the recovery time of the injury. It also helps in recovery of intensive training and over exertion injuries as well as to decrease post surgical recovery time.
Looking for your own Therastim?
We offer an affordable alternative to the Therastim and ARP Wave, the Globus Phoenix Edition.
Banas Sports Therapy is not affiliated with ARP Corp. We use the orginal Therastim. If you are interested in the newer version of the ARP Wave, we have a Physical Therapist on site that owns one and we can put you in contact with him.