Computer Scanned Custom Orthotics in Gilbert AZ
Only $235.00
Includes Doctor's Visit and Exam
Same Quality as $600 plus orthotics
Orthotics Durable for 2-5 years
Plantar Fasciitis?
This is Dr. Jeff's foot. He used to suffer from Plantar Fasciitis, but now he runs without any foot pain.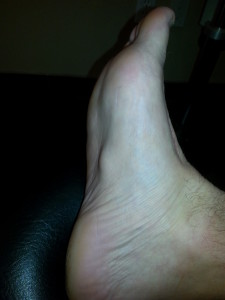 Dr Jeff talking about his custom orthotics
Same day appointments. Orthotics take about one week to be made.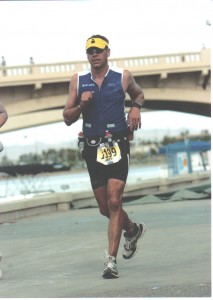 "As an Ironman Triathlete myself and someone who has a degenerated knee (Chondromalacia patella) and has also suffered from Plantar Fasciitis, I am always looking for the best Orthotics to reduce pain and keep me running. I found them. I would never run without my Custom Foot Orthotics." – Dr. Jeff Banas, Eight Time Ironman Triathlon Finisher
Custom foot orthotics are not just for running. Custom foot orthotics can help with knee pain, plantar fasciitis, heel pain and back pain. 480-633-6837 drjeffbanas@gmail.com
(Actual email from a patient)
Hey Dr Jeff I just wanted to drop you a note to tell you how the orthotics are working out. When I came in to see you In April I had been suffering from chronic back pain since 1998, often times rendering me unable to do much of anything. Thus I had to retire from police work. Over the last six months I had gradually been losing feeling in the tips of my fingers and both of my shoulders were just killing me with pain.
Literally within 4 days of putting your custom orthotics in my work shoes almost all of my problems (95%) are GONE. No back pain or stiffness, no shoulder or neck pain. The feeling is back in my fingers. To say I can't believe this has happened is the understatement of the year. I feel great and it's amazing! I am going to be ordering another pair soon for my everyday shoes as well as my work shoes.
It stuns me to think that the last 16 years of my life I have suffered unbelievable pain when the solution was so simple. Thanks for your help, I could not be happier. – Richard
We have developed a unique system that will enable you to have the benefits of custom running orthotics at a fraction of the cost.
 Most Sports Medicine Physicians charge $400, to $500, to $600 or more for the examination, fitting, and the actual orthotics themselves.
We charge only $235 for true custom orthotics, which includes examinations and fitting. 480-633-6837

Computer Scanned Custom Foot Orthotics
Only $235
Includes Doctor's visit and Exam.
Call us now for your free foot evaluation and 3 D foot scan. 480-633-6837
"If you have any questions what so ever about our Custom Foot Orthotics, call me personally at 480-633-6837 or e-mail me at drjeffbanas@gmail.com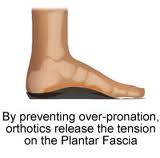 Wedges can be added under the heel of any arch support. It is very common to wedge the heel of a Orthotic to gain more control. Improving bad alignments can help ankles, knees, and lower back. We recommend you do not go above 6mm in wedges unless you have had experience using them or prescribe by your doctor. Wedges will change your alignment and can cause discomforts in the body for up to 30 days. These discomforts will fade as the body adjusts to its new alignment.
Do you have problems with flat feet, low back pain, ankle pain, runners knee, pronation, excessive pronation or supination, Plantar Fasciitis (arch pain and/or heel pain), heel spurs, or neuroma?  If so, you may need  foot orthotics.
If you are suffering from chronic injuries, back, or knee pain your feet need to be checked out. 480-633-6837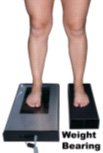 Many factors can contribute to improper tracking of the patella during running, such as genu valgus, tibial torsion, tight hamstrings, weakness of the vastus medialis and training errors (e.g., excessive hill running). In my experience, however, the most common biomechanical fault associated with patellofemoral pain in runners is an increased Q angle. Whenever the measurement of this angle is above normal limits, the probability of developing tracking disorders, patellofemoral pain and chondromalacia patellae greatly increases.
The most effective way to decrease a high Q angle and improve the tracking of the patella is to prevent excessive pronation by the use of flexible, custom-made foot orthotics.3 Flexible orthotics that support all three arches of the foot have been found to reduce the Q angle immediately.4 Another study reported that soft orthotics are more effective in reducing knee pain and preventing recurrence than a traditional therapeutic exercise program.5 My experience is that specific chiropractic adjustments, combined with custom-made, flexible orthotics and a simple, at-home rehabilitative program, provide the most effective and most comprehensive level of care for patients with patellofemoral pain.
Plantar Fasciitis
This condition causes heel pain in the area of the medial calcaneus tubercle, which is the insertion point for the plantar fascia. This aponeurosis is made of strong yet flexible connective tissue that functions as a bowstring to hold up the medial longitudinal arch. Since the plantar fascia is the major structure that supports and maintains the arched alignment of the foot, it is placed under considerable stress during running.6
Excessive pronation has been identified as the most common biomechanical finding associated with plantar fascitis, although a weight-bearing evaluation sometimes finds rigid supination.7 In either case, custom-made orthotics that provide shock absorption and support for the medial longitudinal arch are needed, along with adjustments of the foot and ankle.
Orthotics Help Protect Runners
Whenever a runner has an injury, it is important to assess the extrinsic contributors, as well as the intrinsic biomechanical faults. Custom-made orthotics have been shown to significantly decrease foot pronation velocity and tibial internal rotation.8,9 Wearing orthotics while running also reduces the electromyographic activity in the biceps femoris, tibialis anterior and medial gastrocnemius.10 Appropriate use of custom-made orthotics can help decrease the high incidence of overuse lower extremity injuries. By reducing the stress and strain of running, a well-designed orthotic can speed a full return to running activities, while also helping prevent re-injury.
References
Subotnick SI. Sports Medicine of the Lower Extremity. New York: Churchill Livingstone, 1989:475.
Clement DB, Taunton JE, Smart GW. Achilles tendinitis and peritendinitis: etiology and treatment. Am J Sports Med, 1984;12:179-84.
D'Amico JC, Rubin M. The influence of foot orthotics on the quadriceps angle. J Am podiatrist Med Assoc, 1986;76:337-40.
Kuhn DR, Yochum TR, Cherry AR, Rodgers SS. Immediate changes in the quadriceps femoris angle after insertion of an orthotic device. J Manipulation physio Ther, 2002;24:465-70.
Eng JJ, Pierrynowski MR. Evaluation of soft foot orthotics in the treatment of patellofemoral pain syndrome. Phys Ther, 1993;73:62-70.
Huang CK, Kitaoka HB, An KN, Chao EYS. Biomechanical evaluation of longitudinal arch stability. Foot Ankle, 1993;14:353-7.
Kwong PK, Kay D, Voner RT, White MW. Plantar fasciitis: mechanics and pathomechanics of treatment. Clin Sports Med, 1988;7:119-26.
Eng JJ, Pierrynowski MR. The effect of soft foot orthotics on three-dimensional lower limb kinematics during walking and running. Phys Ther, 1994;74:836-44.
Nawoczenski DA, Cook TM, Saltzman CL. The effect of foot orthotics on three-dimensional kinematics of the leg and rearfoot during running. J Orthop Sports Phys Ther, 1995;21:317-27.
Nawoczenski DA, Ludewig PM. Electromyographic effects of foot orthotics on selected lower extremity muscles during running. Arch Phys Med Rehabilitateitate, 1999;80:540-4.
---