Are you ready to get the most out of your body and take your performance to the next level?
Are you ready to start exercising SMARTER?
What you get from your Metabolic test with Dr. Jeff Banas
This test includes:
 Where and at what heart rates your body burns fats, proteins and carbohydrates.
A print out of the actual RQ (respiratory quotient) showing what your body is burning as fuel at specific heart rates.
How many calories you need to lose weight, gain muscle mass or improve your sport performance.
How many calories of fats, proteins and carbohydrates you should be taking in to meet your goals.
What are the best sources of fats, proteins and carbohydrates.
What types of exercises and how often you should be exercising to meet your specific goals. 
Any supplements suggestions that may help you reach your goals.
Training and nutrition "biohacks".  
After your Metabolic Test, Dr. Banas will sit down with you and discuss the results and all the above information.
(From New Leaf): By investing in your METABOLIC VO2 TEST exercise and resting metabolic assessments, you'll gain insight into your personal metabolism. At your fingertips, you'll have detailed information about your caloric needs and about how your body burns fat. You'll know, from a sound, scientific perspective, what your body requires to operate at its best. And while all those details can be intriguing and even impressive, what you really need is a big picture.
So what is the Big Picture for yourself, and for your body? Are you committed to losing weight, and then managing it in a healthy range? Maybe your weight's OK, but you feel less than your physical best—a fitness-focused goal to improve your body's vitality is what gets you fired up.
Or perhaps you've poured your time and energy into a sport, and now is the time to pursue the next level of athletic performance.Your big picture—whether weight management, fitness, or athletic performance—is what ultimately makes your EXERsmart exercise and resting metabolic assessments useful and meaningful. With the big picture in mind, you can count on New Leaf to help you make the most of your profile results. New Leaf provides all the tools you need to bring your vision into clear view. We can help you refine your goals so your big picture is clearly in focus.
 **All services, including coaching and orthotics, can be paid with a Health Saving Account (HSA)**
For a list of our fees, please go here:
The cost for the metabolic test is $125.00.
The $20 special at the end of this video was for a consultation ony and does not include the metabolic test.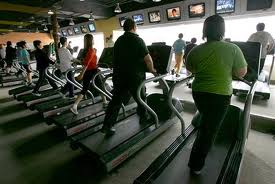 Are you exercising and still not losing weight, even with a good diet?
If so, you are likely working out in the wrong heart rate zone can causing your body to burn sugar as fuel and NOT fat. A Metabolic VO2 Max Testing can tell you where your heart rate needs to be to teach your body to burn more fat.
Through Metabolic VO2 testing we can decide what you are burning as fuel (Fats, Carbohydrates, or Proteins) at various heart rates and exercise intensities. We can then develop nutrition and training concepts that will improve the body's ability to burn fat.
480-633-6837       
drjeffbanas@gmail.com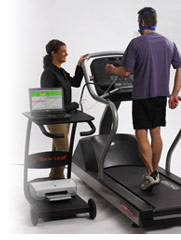 About the Metabolic VO 2 Efficiency Test
How do you decide where you are metabolic efficient (the heart rates where are you burning the highest percent of fat?
We test you on your bike or on a treadmill. You wear a mask the collects the air that you breath out. The ratio of the volume of carbon dioxide released to the volume of oxygen consumed, called the respiratory exchange ratio (RER), also sometimes known as the respiratory quotient (RQ).
NOTE:  Formulas to decide heart rate are very unreliable
Go here for more info on More info on VO2 Max Testing