Endurance / Training: Supplement Protocols
Dr. Banas will customize your supplements specifically for your condition. 
With supplements you "get what you pay for". All supplements are NOT created equal. We have done extensive research to bring QUALITY supplements.
Two ideal vitamin-mineral combinations to support your high performance nutrition program.* The a.m. supports daytime energy and the p.m. version promotes recovery.*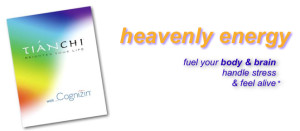 Product Description
If you need to dig yourself out of an overtraining hole, gain lung capacity, get extra vigor and brain focus for a training session or race, or desire extra calming nourishment to help you navigate the storm of stress, work and life, then TianChi Chinese Adaptogenic Herb Complex is your ultimate solution.
TianChi is a potent blend of a unique category of herbs called adaptogens, herbs that facilitate your body's "adaptation" to stress. They help your body maintain, build or fix it's own natural healthy processes, even if you're exposed to a wide range of external and internal stressors.
Aside from a small handful of elite athletes and coaches, trained monks and scholars of the Orient, most people don't realize that regulating your nervous system and stopping the constant outflow of energy due to various adrenal stressors is the first step to creating true and lasting energy. It is through targeting the natural regulating mechanism of the body that real energy can be harvested and used to power and rejuvenate your entire body system.
Aids in recovery, reduces stress.
A blend of essential amino acids to repair muscle — perfect for those looking to build and maintain lean muscle mass.*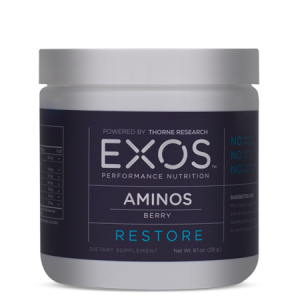 Amino acids help promote muscle recovery, support metabolism, and can increase and maintain lean muscle mass and strength, especially as you age.* Unlike other popular amino acid formulas, Aminos provides branched-chain amino acids (BCAAs) in addition to other essential amino acids shown to help increase your body's natural ability to rebuild, repair, and slow the breakdown of muscle protein.* Two scoops of Aminos provides the amount of leucine (an amino acid important to recovery) necessary to stimulate muscle repair.*
Aminos can be consumed alone or blended with other performance boosters like Catalyte Isotonic or carbohydrates.
Aminos is sweetened with stevia and contains no artificial flavors, colors, or sweeteners.
Aminos is NSF Certified for Sport.
One Level Scoop (7.7 g) Contains:
Calories — 20
Total Carbohydrate — 1 g
Sugars — 0 g
Other Carbohydrate — 0 g
L-Leucine — 1.25 g
L-Lysine (as L-Lysine Chloride) — 650 mg
L-Isoleucine — 625 mg
L-Valine — 625 mg
L-Threonine — 350 mg
L-Histidine (as L-Histidine Chloride Monohydrate) — 150 mg
L-Cystine — 150 mg
L-Phenylalanine — 100 mg
L-Methionine — 50 mg
L-Tyrosine — 30 mg
L-Tryptophan — 20 mg
Other Ingredients: — Citric Acid, Flavors, Stevia extract (leaf) (Rebaudioside A 95%), Silicon Dioxide, Vegetable Juice (color).
Ucan Superstarch
(Mix in Amino Acids with the UCAN)
Generation UCAN is powered by SuperStarch, a healthy, natural, gluten-free innovation in carbohydrate nutrition. SuperStarch is a complex carbohydrate (derived from non-GMO corn) that uniquely stabilizes blood sugar and causes virtually no reaction from the fat-storage hormone insulin. It's backed by proven science. Finally there's a healthier, more efficient energy source than sugars, caffeine, or high-carb meals. Originally discovered for children with life-threatening energy imbalances, SuperStarch is a revolutionary fuel being used for ENERGY, SPORTS, and FITNESS.