An affordable alternative to the Therastim and ARP Wave, the Globus Phoenix Edition.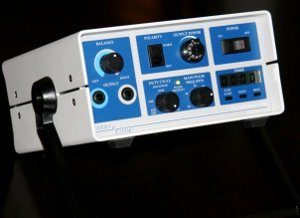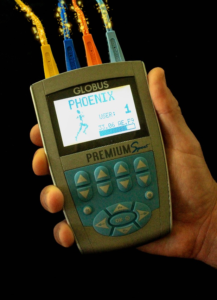 Our Technology, unique waveforms, protocols and training methods are designed to help people of all ages and abilities RISE UP, achieve amazing results and become the person or athlete they have always wanted to be.
The Phoenix Waveform and electric stimulation device unlike the majority of  EMS modalities on the market today.
The Phoenix has the unique ability to produce unique waveforms which are capable of creating dramatic results on mobility, strength, training recovery, injury rehabilitation and pain relief.
Where you feel pain is not always the source, cause or origin of the biomechanical dysfunction. The Phoenix Wave not only achieves amazing symptomatic results, but also addresses the source, cause or origin of the biomechanical dysfunction and/or pain through our proprietary combination of biomechanical, neuromuscular and functional evaluation protocols. We work one-on-one with our clients, through Skype, to make sure you get to where you feel you need to be and to help guide you through our protocols and evaluations process. 
By using a unique combination of AC (Alternating Current) and DC (Direct Current) the Phoenix is able to create a dynamic and adaptive environment within the body. When the Phoenix waveform when coupled with our guidance and  proprietary protocols help people of all ages and abilities RISE UP, achieve amazing results and become the person or athlete they have always wanted to be.
The Phoenix Edition has an unique AC/DC waveform, mobility and strength training protocols which are NOT in the normal Globus Premium Sport.  
$2750.00
(Price includes 3 months of unlimited support with Dr. Banas)
If you wish to use a Health Saving Account to purchase the Phoenix Edition please contact our office at 480-633-6837.

Visit the Globus Phoenix website for more details on protocols.
My experience with ARP WAVE and the development of the Globus Phoenix Edition and protocols.
Back in 2006 a patient of mine asked me if I had heard of the ARP Wave, which is also known as Accelerated Recovery Performance Electric Muscle Stimulation. My patient, who was a former volleyball player and a competitive cyclist, told me that this ARP Wave Electric Muscle Stimulation device was different than all the other electric muscle stimulation (EMS) modalities out there, and it was producing great results with flexibility and sports performance.
I am always open to new ideas and modalities, so although skeptical, I began looking into the ARP Wave. The ARP Wave claimed to offer some great results for pain relief, rehabilitation, and sports performance. These claims also came at a really high price. At that time, you could lease your own ARP Wave for $15,000, yes that is right $15,000 per year!
Despite the seemingly ridiculous price on a lease, I was intrigued by the claims so I contacted the ARP Wave corporate office. I was told that one of the developers of the ARP Wave and the ARP Wave Protocols, Jay Schroeder, had an office in Mesa AZ, which was only a few miles from my office at the time. So, I set up a time to meet with Jay and get a demonstration on the ARP Wave. After waiting for some time, Jay and some of his assistants did a demonstration of the ARP Wave Loosening Protocol on me. They attached the ARP W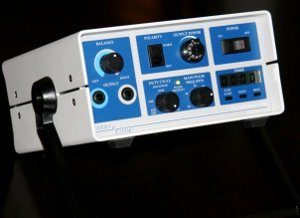 ave electrode to my quads and then I did some squats. Then they attached the ARP Wave electrodes to my hamstrings and I did some toe touches, and the protocol continued like this for other muscle groups.  Honestly, I was impressed. Within just a few minutes of having the ARP Wave on me my flexibility and range of motion improved greatly.
Again, despite the crazy cost of the ARP Wave lease ($15,000 at the time), I rented an ARP Wave for a month and tested it out on myself and my clients. The ARP Wave unit that I rented was the ARP Wave pictured to the right, with the black and yellow face cover. It was also the same ARP Wave unit that Jay used on me at his clinic during the demonstration.    Denis Thompson was one on the developers of the ARP Wave and over the course of renting the ARP Wave, he was my contact for all my questions on the ARP Wave. So, for one month I tried the ARP Wave on myself, my clients, and would talk to Dennis about any questions related to the ARP Wave.
One of the things I was most impressed with the ARP Wave was the loosening protocols. The loosening protocol is done to increase mobility, flexibility, or to warm up before an activity. So, I hooked myself up to the ARP Wave and did my squats, toe touches, and then I was off for my run. The first thing that I noticed while running,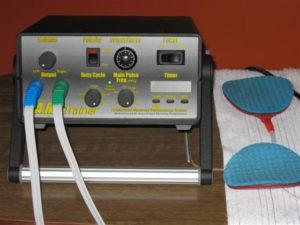 was that I was out of breath and breathing hard. It would usually take me about a mile of running before I felt warmed up enough to really feel like I was running, but this was within only minutes of running. But, looking down at my pace watch, and there was the answer. I was running two minutes faster and that was why I was out of breath so fast.
What happened was the ARP Wave loosening protocol got me warmed up and loose, and I was able to increase my running pace. So, what would usually take me a few miles to warm up, the ARP Wave did in minutes. Based on these experiment results with the ARP Wave on myself and my clients. I began to search the ARP Wave on online strength and conditioning forums. What kept coming up in the discussion forums was an electric muscle stimulation called the Therastim. In fact, people were saying that the ARP Wave and the Therastim were actually the same thing, just packaged a little different. The Therastim is pictured on the left with the blue and gray cover.
The Therastim was manufactured by PhysioDynamics, Inc. The Therastim®, unlike most Electronic Muscle Stimulator ("EMS") devices, was a DC voltage device. This device could achieve deep tissue penetration at a low voltage, and thereby reduce the level of discomfort that was experienced with AC machines that ra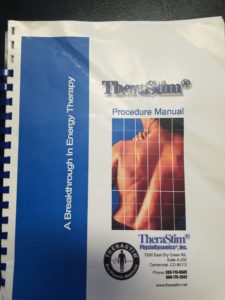 n on much higher voltage. Unlike any other machine on the market, the Therastim® enabled the practitioner to locate the electrical discontinuity caused by a soft tissue or other type of injury.
Basically, the Therastim and the ARP Wave, at that time were the same thing. The Therastim was the initial version of the ARP Wave, and the black ARP wave was the result of Dennis acquiring PhysioDynamics, Inc. and began to operate under the ARP Manufacturing brand name.  I found a doctor who was selling a Therastim unit, so I bought it and decided not to lease the ARP Wave, which I returned to the corporate office. Jay and Dennis continued to develop protocols for the ARP Wave and change the design of the Therastim and ARP Wave.
Since then I have used the Therastim in my office for over 10 years with extraordinary results, reducing chronic pain, improving flexibility, increasing strength, and enhancing performance. During these 10 years, I have been looking for something that could achieve the same results as the Therastim. The problem was that the wave form of the Therastim and ARP Wave produced a very unique signal, and that unique signal is what is responsible for the great results that we were achieving.
An option, was always, was to buy and ARP WAVE and become a licensed ARP Wave clinic. However, the cost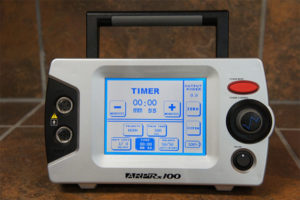 to become and ARP clinic, get an ARP Wave and use the ARP Wave protocols costs about $20,000 for just ONE ARP Wave.
Most clinics that offer the ARP Wave charge around $200 for a single ARP Wave session, and a lot of the clinics require clients to pre-pay for 10 sessions. Although I do LOVE the ARP Wave, the cost to have an ARP Wave in the clinic was too high and I feel that the cost pre ARP Wave session for the patient was also too high. Therefore, I chose not to purchase an ARP Wave and just continue to use the Therastim as the main modality in our sports medicine practice.
I did have a licensed ARP Therapist work in my office for some time, and although we had great results we could not justify the high cost of the ARP Wave. For over 10 years we have been using the Therastim in our clinic with amazing results. We have been developing and redefining our protocols and training methods, and we have been searching for a Waveform similar to the Therastim. In 2016 we finally found a company that was able to create a EMS unit that featured a blend of the two signal which are very similar to the Therastim. What is even better is that we can offer this unique waveform at an affordable price. We called this new waveform the PHOENIX.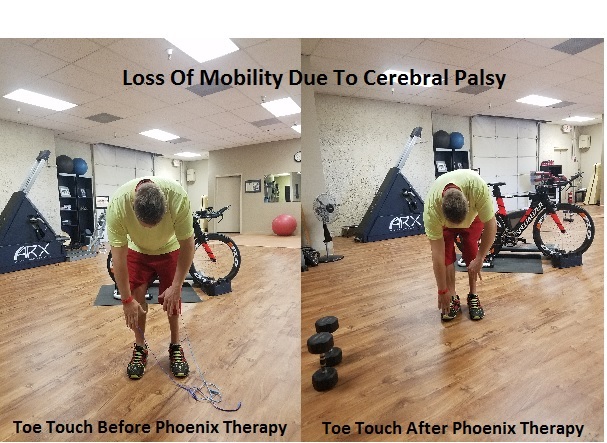 What makes the Phoenix Edition so different from all the other EMS units on the market today is the combination of an AC current and DC current. Most EMS units contain only an AC current. The DC component in Phoenix is done in a way to keep the net charge zero, which decreases side effects such as redness under the pads. There is also an AC component which is responsible for the muscle contraction, this is what separates the Phoenix Edition unique and when combined with our protocols and training methods, produces extraordinary results.
The company manufacturing the Phoenix waveform for us was able to put this unique waveform into one of their existing EMS units, the Globus.
We now are able to offer this blend of two signals (AC and DC current), our therapy, mobility, and training protocols at an affordable price.
The Phoenix edition waveform, protocols and training methods are designed to help people of all ages and abilities. These protocols will unlock your body's potential with a biomechanical upgrade to rise up and become the person or athlete you have always wanted to be.
To learn more about history of the Therastim and ARP Wave go HERE.
Comparison of other EMS Units
Phoenix Waveform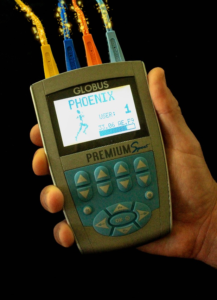 Current: DC and AC
Waveform: Square Wave, Asymmetrical, Main  Pulse Wave and Background Wave
Cost: $2750.00
ARP Wave RX 100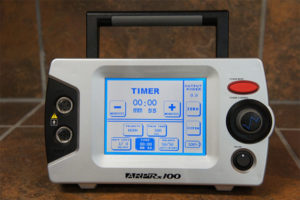 Current: DC
Waveform:  Square Wave, Asymmetrical, Main Pulse Wave and Background Wave
Cost: $20,000 (Lease)
ARP Wave POV
Current: DC
Waveform:  Square Wave, Asymmetrical, Main Pulse Wave and Background Wave
Cost: $7500 (Lease)
Therastim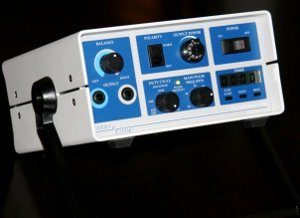 Current: DC
Waveform:  Square Wave, Asymmetrical, Main Pulse Wave and Background Wave
Cost: $7500-$8000 (No longer in production)
Globus
Current: AC Only
Waveform: Square Wave, Biphasic
Cost: $850
Marc Pro
Current: AC Only
Waveform: Biphasic decaying waveform.
Cost: $949.95
Compex Sport Elite
Current: AC Only
Waveform: Biphasic rectangular impulse with electrical mean equal zero (net zero DC).
Cost:$849
History of the Arp Wave / Therastim
THE THERASTIM MACHINE
At Banas Sports Therapy we mostly use the Therastim. We do have a Physical Therapy here that has the newer ARP Wave.
PhysioDynamics, Inc. ("PDI"), the predecessor to ARP Manufacturing, LLC, was incorporated in Colorado in 1987 for purposes of manufacturing the Therastim®, a transcultaneous electronic muscle stimulator generating a unique electrical wave form for tissue penetration. Gary Thomas invented and developed the device and received patent approval for his electrotherapeutic apparatus on May 5, 1992, (United States Patent No. 5,109,848).
The United States Food and Drug Association ("FDA") classified the Therastim® machine as a powered muscle stimulator Class II medical device under 21 CFR 890.5850. All manufacturers and importers of such devices are required to register their establishment with the FDA and file for and obtain FDA authorization of a 510K application prior to commercial distribution of the powered muscle stimulator device.
In 1989, PDI received pre-market approval from the FDA for its 510K application related to the Therastim® device pictured above.
The standard indications approved by the FDA for use of the Therastim® under 21 CFR 890.5850 were: Relaxation of muscle spasms; Prevention or retardation of disuse atrophy; Increasing local blood circulation; Muscle re-education; Immediate post-surgical stimulation of calf muscles to prevent venous thrombosis; and Maintaining or increasing range of motion.
PDI initiated production in 1991 and the first Therastim® machines were placed for sale in commerce later that same year. The Therastim® became an important new treatment modality for soft tissue injury. Its patented wave form allowed a practitioner to place a patient in motion to purposes of treatment, which is unique to this day. The Therastim®, unlike most Electronic Muscle Stimulator ("EMS") devices, was a DC voltage device, which could achieve deep tissue penetration at a low voltage and thereby reduce the level of discomfort for the patient experienced with AC machines that ran on much higher voltage. Unlike any other machine on the market, the Therastim® enabled the practitioner to locate the electrical discontinuity caused by a soft tissue or other type of injury.
The primary market strategy for the Therastim® in the 1990's was geared toward medical practitioners who would use the Therastim® as a compliment to their traditional physical therapy methods. That market focus began to slowly change, however, after Gary Thomas was introduced to Denis Thompson ("Thompson") in 1990, who later founded the Accelerated Recovery Performance System and ARPWave. Thompson began to experiment with benefits of the Therastim® based on techniques employed by the former Soviet Union in training its Olympic athletes. In the early and mid 1990's Thompson experimented with the Therastim®, developed various protocols for use of the device and traveled to different trade shows demonstrating its use and effectiveness to individuals.
During this time period, Thompson developed and perfected his "Search and Destroy"SM method. This method was premised on finding the cause or source of the particular injury and the electrical discharge that resulted therefrom. Thompson found that by using specific protocols or processes in conjunction with the Therastim®, he could locate the true cause of a particular injury based on a heightened electrical response located in an area within the body, which almost always was in a different location from where the injury itself occurred or where the individual was experiencing pain. Thompson coined the term "Search and Destroy"SM and initiated commercial use of the "Search and Destroy"SM mark as indicating the source of this method.
Thompson determined that the brain was deceiving the patient, as well as conventional medicine in general, by directing pain sensation and resulting treatment to the injured area rather than to an area contributing to the actual cause of the injury. The Therastim® could not be deceived however, because it was designed to locate electrical discharges or spikes within the body and to dissipate them by getting rid of inflammation with use of proper protocols and movement. Based on the Search and DestroySM method, Thompson was able to achieve great success in treating soft tissue injuries; however, he noticed that on a number of patients symptoms would return.
In 1998, with the help of Dr. Steven Moe, Thompson developed the "In Balance"SM system using applied kinesiology, also known as human kinetics. The In BalanceSM system used chiropractic principals and manipulations to bring a patient's neurological system back into balance for purposes of being able to absorb force. The Search and DestroySM method would then locate and treat the source of the injury. Thompson coined the term "In Balance"SM and initiated commercial use of the "In Balance"SM mark as indicating the source of this applied kinesiology method. However, Thompson discovered that placing a patient in balance and removing the source of the injury still left many patients not strong enough to absorb the level of force necessary to be able to return to regular activities.
In 1998, Thompson met Frank Schroeder ("Schroeder"), who was involved in strength training and worked with elite athletes in Arizona. In 1999, the two of them began creating strengthening protocols for the Therastim® for use on or by individuals either recovering from injuries or desiring to achieve peak levels of athletic performance. One such individual was Adam Archuleta, who with Schroeder's help achieved extraordinary results in the pre-draft combine and was drafted in the first round of the NFL draft by the St. Louis Rams in 2001.
THE A.R.P. TRAINER
2001 was also the year the A.R.P. Trainer was introduced into commerce by Thompson. The ARP® Trainer incorporated many of the trade dress elements from the Therastim® device including the overall device shape and placement and location of controls, but used a different color pattern on the front face plate.
"A.R.P." stands for "Accelerated Recovery Performance," Thompson introduced his untraditional three step ARP® System of: (1) In Balance SM, (2) Search and DestroySM recovery and break down of compensation patterns, and (3) Neurological Force Absorption, to trainers sand medical professionals employed by the NFL. NFL athletes began to accept and use the ARP® System Muscle Loosening protocols before and after competition and that gradually led to the use of the full ARP® System by NFL athletes for therapy and strength training.
In 2004, the first ARP® Clinic was opened in Burnsville, Minnesota, and provided a place where professional athletes and the public at large could be placed in balance neurologically, recover from injury and increase strength and the ability to absorb force. That same year, PDI started to aggressively private label the ARP® Trainer for Thompson and the ARP® lease and license program was developed.
Thompson, under the ARP® brand, began to lease the ARP® Trainer and license the protocols for its use along with consultation and support time to professional athletes in all athletic disciplines as well as the public at large.
In 2006, PDI discontinued its Therastim® production and agreed to work exclusively with Thompson to manufacture only the ARP® Trainer. By this time, the look of the ARP® Trainer also changed slightly in conjunction with the modified trade dress implemented by ARP®, as pictured here.
In 2007, PDI was acquired by a new entity organized by Thompson called ARP Manufacturing, LLC, and began to operate under the ARP Manufacturing brand name. By 2007, Denis Thompson had formed ARPWave, LLC and over 300 professional athletes, numerous practitioners, and hundreds of individuals had leased/licensed the ARP® Trainer and the ARP® System protocols. Over the next several years, new proprietary protocols were developed by ARPWave for loosening, recovery protocols were expanded, custom protocols were added, and athletic performance protocols enhanced. ARPWave began to aggressively solicit relationships with professional sport teams which resulted in over 1000 athletes licensing the ARP Wave® System.
THE ARP RX100 & POV SPORT
In 2009, ARPWave opened its corporate headquarters in Apple Valley, Minnesota. By 2010, ARP Manufacturing had developed two new digital machines for ARPWave. The first device is called the ARP Rx 100® and is a prescription medical device much like the ARP® Trainer for which it received FDA approval of its 510K application. The second device is called the ARP POV Sport® and has been approved by the FDA as an over the counter device used to relax and strengthen muscles without the need for a prescription. Both devices are picture here.
In 2010 ARPWave created protocols for its In BalanceSM system that could be implemented with the use of the new machines and which allowed the company to completely move away from the manual manipulation of the patient. Design and utility patents were filed on the new machines and new and upgraded protocols are developed and customized on a daily basis. In addition to the design and development of new protocols in 2010 the company implemented a unique delivery system for administering treatment services using the internet. They would send out an ARP device to a client who expressed a desire for treatment. They would treat the patient over the internet in the convenience of their own home. This was a very successful extension of the ARP Wave services.
In 2011 ARP Wave LLC began to expand the in home treatment program and looked to add clinics throughout the country to expand treatment services. In addition to expanding the treatment services they introduced for regulatory consideration and approval the PRS a hand held unit for loosening and recovery. The PRS prototype was completed and testing began.
In October of 2012 ARP Wave LLC made a decision to change the focus of the company from being a provider of treatment services to establishing in main stream medicine a network of providers. This change was facilitated by the change in the traditional medical landscape and acceptance of insurance carriers for ARP Wave treatment services when done in a medical office.
Banas Sports Therapy is not affiliated with ARP Wave Corp. 
Visit the Globus Phoenix website for more details on protocols.
In addition to the unique AC/DC waveform, the Phoenix Edition of the Globus also contains the following:
Stimulations (2+2): carry out simultaneously two different programs on different body parts.
Syncro-Stim: adjust simultaneously the intensity on all four channels.
Auto Recall: use a training program without any adjustment of the current intensity.
Last Session: automatically stored and recall at the push of a button the last 10 Training Sessions.
Multi-User: share the electrostimulator with other users, while keeping each user's setting and preferences unchanged.
Personal Trainer: built-in menus guide you to choose the appropriate training session to achieve your own objectives.
Runtime parameters adjustment: During a training session, the (fn) button displays and allows adjustment of training parameters to individual needs. It displays a screen showing:

duration (in minutes)
stimulation frequency (in Hz)
phase-width duration (in µs, i.e. microseconds) or chronaxie being used.
Benefits:
New enhanced programs
Backlit display
Runtime parameters adjustment
Strength, Power, Speed, Resistance Training
The Premium Sport's programs, enhance Maximum Strength, Explosive Strength, Resistance, and Reactivity of high-level athletes. By stimulating the specific muscles needed for different sports, the electro-stimulator can supplement the training of every athlete. New Sport Plus allows both Ultra Endurance and Stretch Relax programs.
Ten Sport-Specific Programs
The Premium Sport has ten distinct libraries specifically conceived for the following: Football, Baseball/Softball, Basketball, Running, Tennis, Cycling, Golf, Sprinting, Cross-Country Skiing, and Downhill Skiing. The training libraries include Conditioning and Maintenance programs. Conditioning helps athletes reach peak condition; during competition periods athletes, will then switch to Maintenance programs to maintain the peak condition.
Multiple Treatments 2+2
The strong point of the Four-Channel Globus stimulators is the capability to train at the same time different muscle groups with different training needs.
Technical Characteristics
4 Independent Channels (8 electrodes)
Frequency: 1-120 Hz, adjustable
Maximum Current: 120 mA on each channel
Pulse Width: 200-400 microseconds
Waveform: rectangular, compensated, biphasic, symmetrical.
Certifications: CE MDD Medical.
Physical Characteristics:
Weight: 15.5 oz. (444g)
Dimensions (WxHxD): 6.5″ x 3.8″ x 1.4″
Housing material and construction: Plastic, ABS
Number of Output Channels: 4
Backlight Display
Square Wave
 To stimulate a muscle, it is necessary to apply a current capable of causing depolarization of cell membrane and its consequent contraction, by way of electrodes.
Research has demonstrated that stimulation is more effective and comfortable when current pulses are square and symmetric.
A square-shaped wave is better because:
– it releases the action potential of the muscle in a shorter period of time (vertical rump-up)
– it optimizes pulse effectiveness thanks to the larger area (more intensity in less time) of the square wave as opposed to other wave shapes.
In addition, the current must also be compensated (symmetric pulse shape) to avoid the polarization effects (ionophoretic) of electrical or chemical nature. Indeed, this current type takes on symmetrically-opposed positive and negative values whose result equals to zero, thus avoiding skin burn or rash.
Individual results may vary.
Consult your physician or health care provider and follow all safety instructions before beginning any new exercise program, especially if you are pregnant, or have any medical condition. The contents on our website are for informational purposes only, and do not constitute medical, legal, or any other type of professional advice. Read the Globus and Phoenix Training Manual Fully before using the EMS unit. Results will vary depending on the individual, personal health status, performance goals, and proper use of the device.