Fear of Movement, Re-Injury May Predict Incidence of Chronic Low Back Pain
The clinical course of low back pain can be influenced by factors both physical and psychological. One psychological compon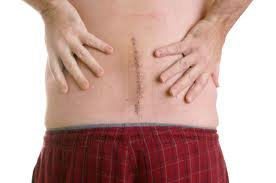 ent of low back pain is pain-related fear, which can impair physical performance and cause avoidance of activity, depriving the individual of receiving necessary information concerning the true state of the low back, and possibly hastening the transition from acute back pain to chronic back pain.
To determine the degree to which pain-related fear would predict future perceived disability and participation in patients with acute low back pain, researchers in the Netherlands tracked a cohort of 555 low back pain patients for six months.
At their first visit, and again at six weeks and six months, patients were requested to complete a series of self-report questionnaires that collected demographic information, along with data on pain-related fear, functional status, and participation in various activities.
Baseline fear of movement or re-injury was the most powerful predictor of future perceived disability. Patients with low back pain and high pain-related fear reported being "significantly more disabled" than patients who reported low fear of movement/re-injury. Combined with episode-specific and demographic variables, fear of movement/re-injury also contributed to the prediction of future participation.
Based on the results of the survey, the authors suggested that "reassurance and the advice to return to normal activities as quickly as possible, which are incorporated in national guidelines concerning LBP, may not be sufficient for patients reporting increased levels of pain-related fear." For these patients, other procedures, such as educational sessions, cognitive-behavioral approaches and similar fear-reduction techniques may be more appropriate.
Low Back Pain Treatment MESA AZ
Swinkels-Meewisse IEJ, Roelofs J, Schouten EGW, et al. Fear of movement/(re)injury predicting chronic disabling low back pain: a prospective inception cohort study. Spine2006;31(6):658-664.